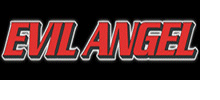 Evil Angel DVDs



Evil Angel is a production company for pornographic films owned by John Stagliano.

It has been described in literature examining the industry as one of "five or six companies... which now dominate the distribution of pornographic videos in this country, much as the big six Hollywood studios dominate the distribution of legitimate movies; the porn majors claim most of the shelves in video rental outlets, just as the Hollywood majors sew up the screens at the cineplexes in middle America". In 1997, it was identified in a U.S. News and World Report investigation as the most profitable pornographic studio.The company's rise to prominence was fueled by the industry switch from film to videotape. "By the 1990s, with video cameras in routine use, companies like Evil Angel Video could produce tapes for a reported $8,000".

In the summer of 1995, adult film director Gregory Dark "decided to break away from VGA ('creative differences'), and erected his own X-rated film company Dark Works, with internationally-renowned Evil Angel Video handling all distribution". Although Dark has since ended this association, the company has production deals with John Leslie, Rocco Siffredi, Joey Silvera, Christoph Clark, Nacho Vidal, Justin Slayer, Jonni Darkko, Manuel Ferrara and porn actress Belladonna, for whom it is the exclusive distributor of titles under the Belladonna Entertainment and Deadly Nightshade Productions labels.

The Evil Angel stable is all name-brand directors, each of whose titles are synonymous with his own particular arsenal of sexual proclivities, his own persona, each a star in his own right whose work carries the implicit message.

Owner John Stagliano claims that this company differs from others in the field in that it permits its directors to own the films that they create. Producer-directors at Evil Angel pay to shoot and print their movies, and Evil Angel staffs the sales department to sell the movies. Hence Evil Angel... has high-budget, polished feature films that use porn stars and employ the standard formula for sex scenes. They contract with in-house directors, who each have their own style.