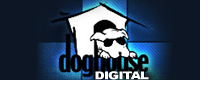 Doghouse Digital DVDs



Doghouse Digital, Canada's largest adult production company, was built on the demands of the consumer. They incorporated what they knew about which content and packaging sells and took it to the next level. There packaging might be the first thing that catches your eyes, but it's the content that's going to keep you in the Doghouse forever.

Since it's inception, Doghouse Digital, has quickly become a force in the gonzo market and we will continue to grow. In the past year we have added many talented directors to our roster including Rod Fontana, Brett Rockman, Jim Gunn, Bobby Manila, Rod Vicious, Inari Vachs, Dillon and Lauren Phoenix.